Masters of Educational Technology and Applied Learning Science: Sample Capstone Projects
Each Capstone is unique to the project but structured according to the requirements of the course. METALS has permission from sponsors and students to share this Capstone Project information. In general, course sponsors have complete protection for their prior intellectual property and rights to the additional intellectual property that students develop during the project. Students own this additional intellectual property. It is rarely needed or desired, but sponsors may negotiate with students after the course is completed for exclusive rights or ownership.
Read about the:
METALS Prime:
BloomBoard to envision a product to support educator learning in an online community setting. The team embarked on a strongly user-driven end-to-end research, design, and development process which culminated in the creation of BloomBoard Collaborate, a tool that aids teachers in building and creating transformative professional learning communities (PLCs) in a digital environment. During the process, the team's extensive research explored the value of educator communities resulting in an evidence-based tool or environment that facilitates collaborative, transformative learning among teachers.  You can view the overview, research, team, and design directly on the student's project website.
Virtual job shadowing with MARi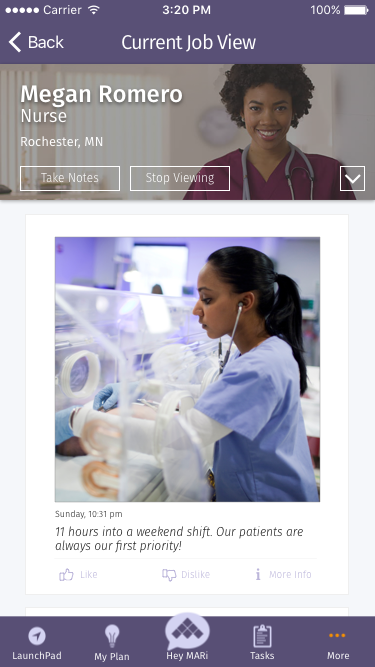 Team Cobalt: 
Team Cobalt's MARi project was honored at the White House as one of five finalists in the First Lady's Reach Higher Initiative and the U.S. Department of Education's announced five finalists in the Reach Higher Career App Challenge.  The Challenge launched in October 2015 called for new mobile technologies to help students navigate education and career pathways, including career and technical education (CTE).
The mobile solution MARi and METALS Capstone Team Cobalt presented utilizes assessments, capability mapping, virtual job shadowing, and achievement validation to help students identify and prepare for their careers. MARi's mobile app provides critical academic and career guidance, which has become increasingly harder for students to receive as guidance counselors and educational and career information becomes harder to access. See more on the team's website.  Or read more about the White House presentation here.
Slice Consulting:
Slice Consulting partnered with Western Governors University to envision and develop a mobile application to deliver bite-sized learning. The team embarked on a strongly user-driven end-to-end research, design, and development process which was culminated in the creation of Learning Snacks.  Implemented for the prototype, the user could answer questions pulled from the API endpoints. Questions were displayed in a responsive manner, complete with a hint option and tailored feedback. The user could even favorite questions for viewing at a later time. A unique feature was the ability to incorporate a simplified version of knowledge tracing into the a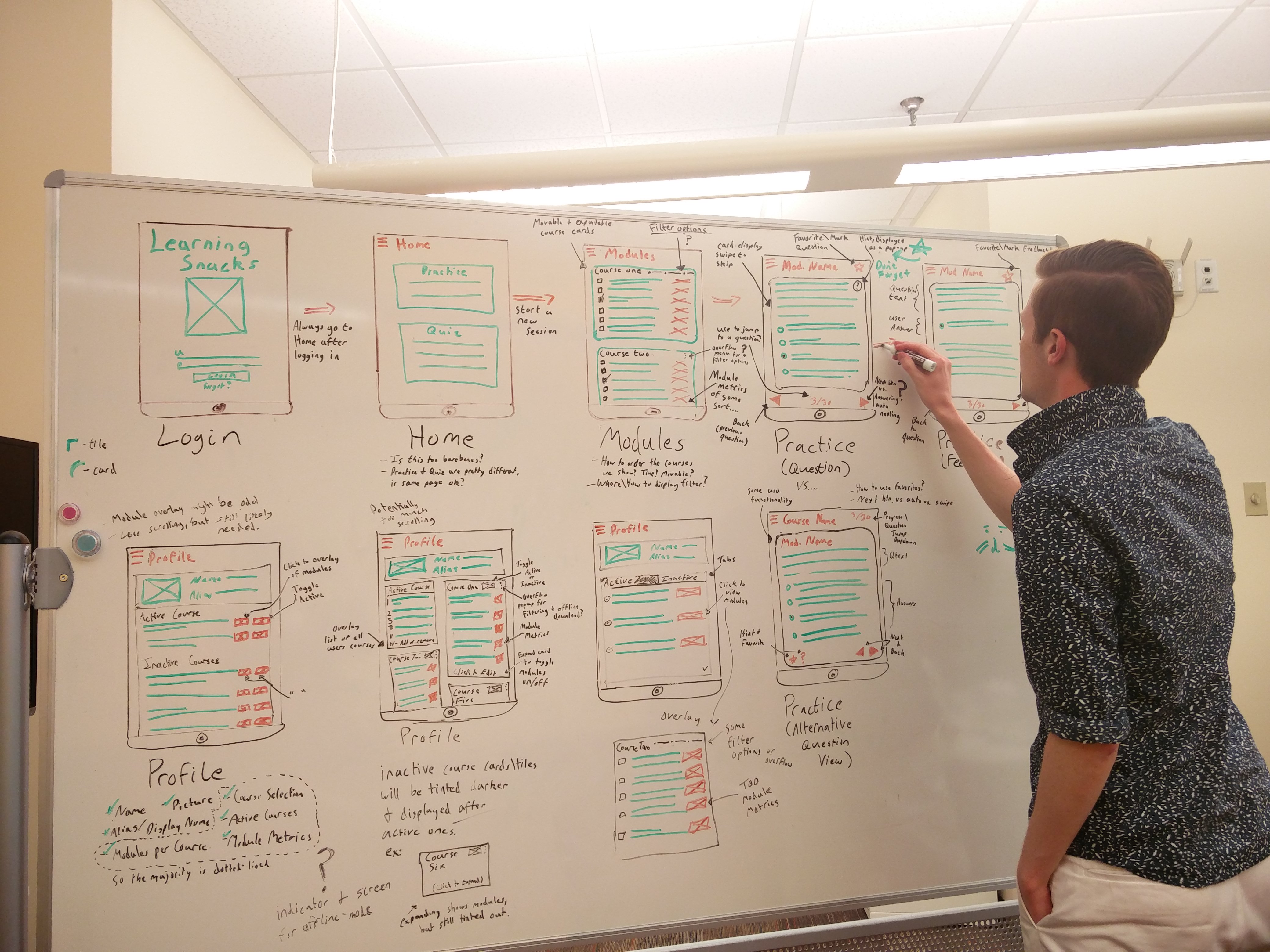 pp, all while working completely offline.  Learn more about this project by visiting the team's website.
Read the project team's Spring Report and Summer Report that were delivered to the client in addition to the high fidelity prototype.
Team MoMega: 
Team MoMega partnered with a professional services organization that operates in more than 100 countries to evaluate and redesign a career transition program for newly promoted leaders. The team analyzed the organization's various training program deployments to synthesize common needs around the world in line with their organizational learning goals to design and develop a globally consistent framework for and a pilot module of a virtually deployed leadership and career transition program that supports the professional needs and growth of newly promoted leaders.
For more information, read about the: